CyberArk (NASDAQ: CYBR) is the global leader in privileged account security, providing a critical layer of IT security to protect data, infrastructure and resources across the enterprise - on-premise, in the cloud, on endpoints and in the DevOps pipeline. CyberArk has made a name for itself by building the Privileged Account Security division and has led the market for more than a decade. The company provides the industry's most complete solution for mitigating risks associated with privileged credentials and confidential access data. CyberArk is the only public company 100% focused on Privileged Account Security. More than 6000 of the world's leading companies in 90 countries rely on CyberArk, including more than 50% of the Fortune 100 and 35% of the Global 2000.
Privileged access security solution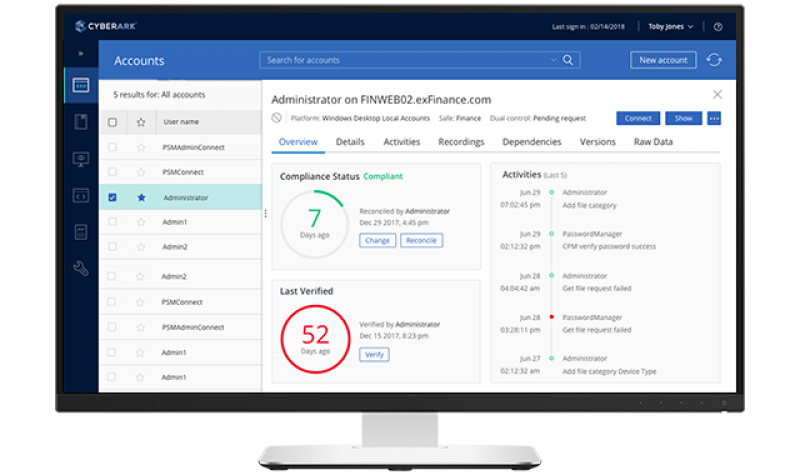 Core privileged access security
Identify and manage privileged credentials consistently, capture and monitor privileged sessions and correct risky activity in on-premise, cloud and hybrid environments. Enable least privilege on both Windows and *NIX servers and detect and mitigate threats on domain controllers The API First approach allows tasks to be fully automated and functionality to be extended.


Endpoint privilege manager
Enforce least-privilege principles, control applications and prevent the theft of credentials on Windows and Mac desktops and Windows servers to fend off attacks and stop lateral movement.
More Information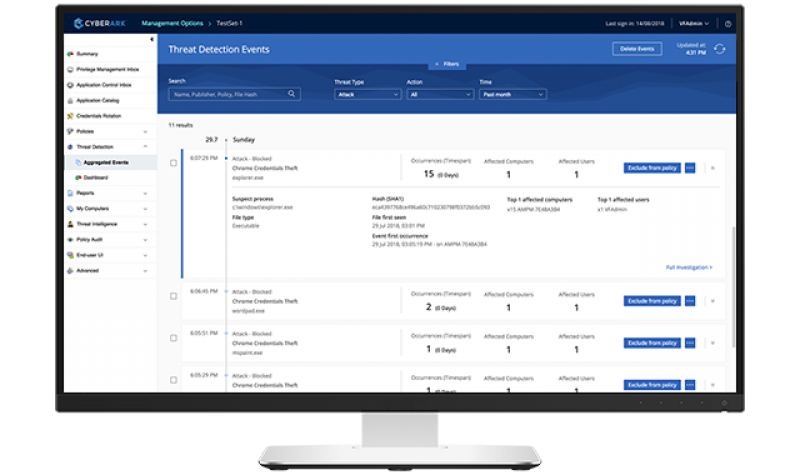 iDaptive
With the acquisition of iDaptive in May 2020, CyberArk will provide a comprehensive, artificial intelligence (AI)-based, security-focused approach to identity management. CyberArk extends its ability to manage and protect identities with different levels of permissions in hybrid and multi-cloud environments. As a result, customers can improve their overall security posture with a more efficient and seamless user experience and meet ever-increasing and complex regulatory requirements.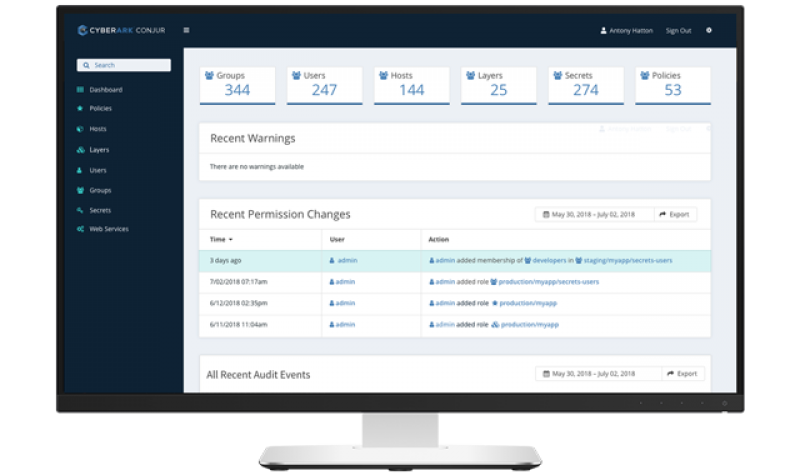 Application access manager
Control, manage and audit privileged access by non-human identities to applications, including commercially acquired and internally developed applications and applications developed with DevOps tools and methods, in on-premise, hybrid, cloud and containerised environments .
Alero
Secure remote provider access to the most sensitive IT resources managed by CyberArk - no VPNs, agents or passwords are required. Combines zero-trust access, multi-factor biometric authentication, just-in-time provisioning, and visibility in a single SaaS solution that gives remote providers secure access to the CyberArk Core PAS solution.
More Information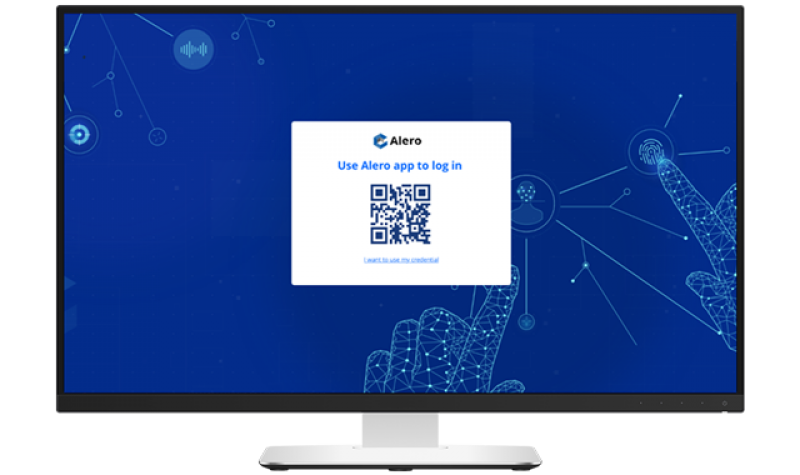 Shared Technology Platform
---
CyberArk Privileged Access Security uses a shared technology platform that improves operational efficiency and integrates seamlessly into your existing environment.
Digital vault
CyberArk's Digital Vault is protected for on-premise and cloud deployments with multiple layers of built-in security - for authentication, access control, encryption, tamper-proof storage and data protection.
Discovery engine
The CyberArk Accounts Feed identifies users and service accounts, SSH keys, confidential credentials, and other privileged credentials so that you can assess the extent of your risk to the security of privileged accounts.
Secure audit
CyberArk provides central, tamper-proof audit records for all privileged access activities, with personal tracking for all calls or uses of shared privileged accounts.
Scalable, flexible architecture
CyberArk's component-based architecture is easy to deploy and easily scales to support the most complex enterprise deployments. High availability and disaster recovery configurations are fully supported.
Enterprise-class integration API
CyberArk solutions integrate easily with your existing security, operations and DevOps tools and applications. C3 Alliance provides certified integrations with partners to help you achieve faster solution value.
Certified alliance-integrationen
The C3 Alliance provides integrated solutions to mitigate risk and improve compliance.


More Information

Other integrations
Extend secure privileged access in your company with integrations from CyberArk and its partners.

More Information