N-able MSP combines the technology and expertise of N-able, N-able and LOGICnow since 2016. With its scalable, end-to-end IT Service Management product suite, specifically designed for managed service providers of all sizes, N-able MSP provides the most widely used managed services solutions for IT service providers and managed service providers. More than 10,000 IT service providers worldwide use these innovative and easy-to-use solutions. In Germany, Austria and Switzerland more than 1,500 system houses use the products and offer their customers powerful Managed Service offerings based on the product suite.
The solutions have been greatly developed and expanded over the years and offer hosted solutions in areas such as system management, patch management, monitoring & automation, inventory, backup, endpoint, mail security & web security.
Backup with location Switzerland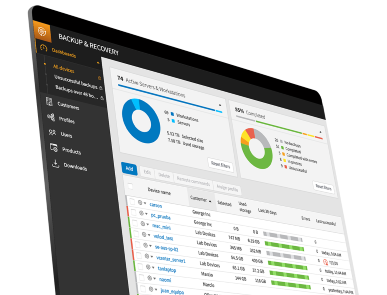 N-able MSP Backup & Recovery
N-able MSP Backup is your platform for data protection as a managed service. With this solution you can offer your customers reliable backup of systems and data in the Swiss data center as well as on site without changing or transporting media. Define your own backup targets in your own data center or in the customer environment.


Free Trial
Learn More